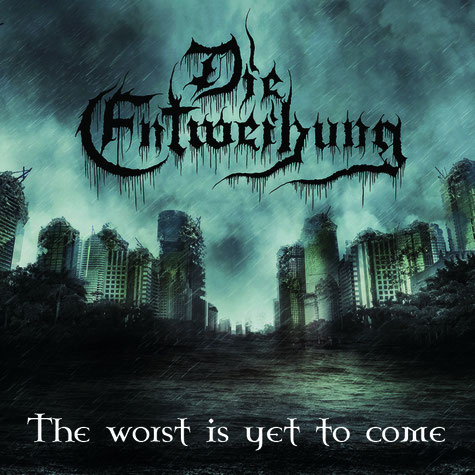 The new album "The Worst Is Yet To Come" is available since 01 september, 2018 via two russian labels Wings of Destruction & More Hate Prods! In addition, DIY CDr, limited to 50 copies, was released by Philippine label Thresthold Records  on 11 september and Tape edition was released on 14 september bu US label Arctic Ritual Productions! Almost completely left the Black Metal style on the previous album, the new work continues to move to the new direction, mixing the styles like Thrash, Hard-n-Heavy. Doom, adding the mid-eastern melodies in some compositions and Black Metal vocals. Lyrically, "The Worst Is Yet To Come" also continues the previous "Neverending Terrorism", in simple and clear form bringing the authors thoughts about what is happening in this world now. There is the cover version for the legendary Doro Pesch song presented as bonus track, that was recorded for the unreleased Tribute to DORO.
In VIDEO section was added the video review on some underground CDs, featuring "The Cage" and "Neverending Terrorism" by Die Entweihung".  "The Cage" got 2,5/5 and "Neverending Terrorism" got 4/5. The video is in russian language, by "Iron Attack" videoblog. The official page of "Iron Attack": https://vk.com/ironattack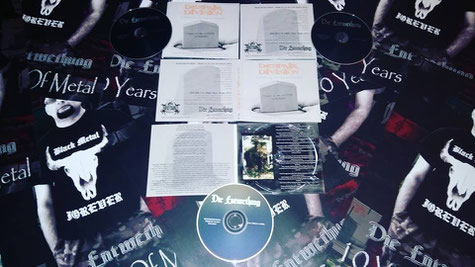 Finally, "Despair Division - Tribute to Joy Division" is released on CD by mighty german Wolfmond Production! First edition is limited to 100 copies (Digipack with pro CDr and Die Entweihung Poster) and contains single "One Shot In April" as bonus. All the tracks from this edition were released before only in tape format. Beside of it, here we have an original track list titles of "Despair Division", with 11 titles instead 10, as it was on tape edition by Acephale Winter Productions. You can listen promo here  and order here  or via band's email, that you can find in CONTACT section. 
And here we are with the second review from Germany for "At The Bottom" edition, released by Wolfmond Production ! And as usual, it can be found in PRESS section.
New review from Germany for the newest edition of "At The Bottom" album, released by "Wolfmond Production" here or you can read it here as well, in PRESS section!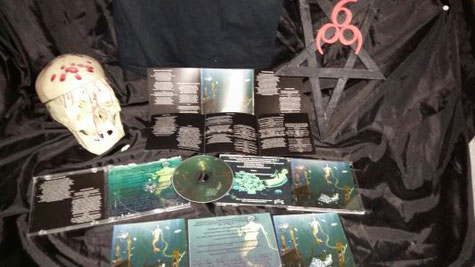 New edition of "At The Bottom" is available on german label "Wolfmond Production"! Pro CDr, 6 pages booklet, containing original russian lyrics and the english translations, 100 copies. For more info and order check out the label website: https://wolfmondproduction.wordpress.com/ or via email: wolfmond_production@web.de
First time in Die Entweihung's history, T - Shirts are available! With "Neverending Terrorism" art on the both sides! Photos and more info you can find on

Zombie Records Israhell's facebook page

 . 
New excellent reviews were added to PRESS category! Both "The Cage" and "Neverending Terrorism" were reviewed by great Traumatic Static Webzine! Original publishing can be found here and here . 
First great review for Neverending Terrorism by Katie Metcalfe added to PRESS category! You can find the original publishing on Katie's website

here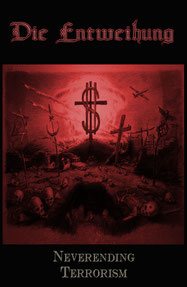 New album "Neverending Terrorism" tape edition is released by russian label

"Chupacabra Productions"

 (which has some last copies of "The Cage" tape edition, released in 2013 by the same label). Limited to 33 copies, with all the lyrics.You can order

here

 . Don't forget check out the

distro

catalogue, including lot of rare & exclusive tapes from the different corners of this world!



Today, november 25th, 2015, New album "Neverending Terrorism" and "The Cage" album (2013) are officially released via Zombie Records Israhell Division Label! All details, links for listening and ordering you can find in "ZRID RELEASES" and in "MUSIC" on this site.  All the details about distributors of these CDs will be added later.



Finally, "Neverending Terrorism" begins! The album's digital distribution is online via album's official russian distributor Zombie Records (Russia), listen & order digital version you can

here 

 ; during a couple of days there will be available CDs on the same link (mainly for the fans from Russia and CIS), and in november our label (Zombie Records Israhell Division) will release the both "The Cage" & "Neverending Terrorism" CDs. Actually they are on their way to Israel. In december we will begin the worldwide distribution, with the help of some great labels around the world!